Six Cleveland-area nonprofits compete for prize that includes 100 service hours and $5,000 cash donation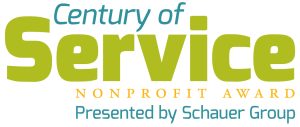 Schauer Group, the region's innovative risk management, business insurance and human capital services firm, has announced that six Cleveland-area nonprofits are finalists in the company's Century of Service Nonprofit Award program.
The Century of Service program is designed to provide nonprofits who are physically located in or offer services in the Cleveland metro area the opportunity to compete for an awards package that includes a donation of 100 service hours from Schauer Group associates and a one-time cash donation of $5,000.
Voting begins June 1. The Century of Service finalists are:

Finalists were selected by a panel of Schauer Group associates based upon a variety of factors, including but not limited to: quality of application, demonstration of need and alignment with Schauer Group company core values. Schauer Group has provided a voting portal online at SchauerGroup.com/vote.
Voting will take place from Saturday, June 1, through Sunday, June 16. Voting will be open to the community at large, including any employees, board members and clients of the competing organizations. Individuals may cast one single vote each day during the voting window.
The finalist organization who receives the most votes when voting concludes on Sunday, June 16, will receive the Century of Service donation from Schauer Group. The winner of the Century of Service Award—receiving 100 service hours and a $5,000 donation—will be announced on Wednesday, June 19.
The Century of Service Program is one in a series of 100th anniversary activities that Schauer Group has planned in the region for this year, following a pledged $150,000 gift to Aultman's Timken Family Cancer Center in Stark County.
###
ABOUT SCHAUER GROUP
Based in Canton, Ohio, Schauer Group, Inc. is one of the largest independently owned insurance and risk management firms in Ohio, providing risk management, business insurance, human capital services, employee benefits, contract surety and personal insurance to a variety of clients nationwide. As the nation's first ISO Registered Independent Insurance Agency, Schauer Group maintains a commitment to quality and excellence, achieving an industry-leading 95 percent client retention rate. The fourth generation, family-owned company is celebrating its 100th anniversary in 2019. For more information, visit www.schauergroup.com.