Cleveland-area nonprofit will receive 100 service hours and $5,000 cash donation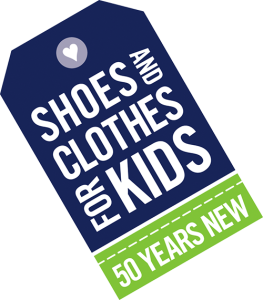 Schauer Group, the region's innovative risk management, business insurance and human capital services firm, has announced that Shoes and Clothes for Kids, a Cleveland-area nonprofit that is dedicated to improving school attendance by eliminating lack of appropriate clothing, shoes and school supplies as barriers, has won the company's Century of Service Nonprofit Award program.
Shoes and Clothes for Kids has been committed to supporting the most vulnerable children in Northeast Ohio for the past 50 years. When a child has the appropriate shoes, clothing and necessary school supplies their feelings of self-esteem, independence and confidence are increased, school attendance rates increase, greatly increasing the likelihood they will graduate from high school. Equipped with a high school degree, students then have a better chance of advancing in society and breaking the cycle of poverty.
"We are proud to be able to offer this support to such a worthy organization that does meaningful work with students in our community," said Bryan Schauer, vice president of Schauer Group. "The Century of Service nonprofit award program will help supply area children with the support they need to succeed."
Shoes and Clothes for Kids will receive an awards package that includes a donation of 100 service hours from Schauer Group associates and a one-time cash donation of $5,000. The organization distributes over $3 million worth of school supplies to thousands of children annually and outfits nearly 11,000 students with school uniforms. Schauer Group service hours and funding will be used to sort, pack and distribute school supplies and school uniforms to children and to support operations.
"We are honored and delighted to be the recipient of the Schauer Group Century of Service award," said Terence Uhl, executive director of Shoes and Clothes for Kids. "Volunteers are critical for us to carry out our mission, so we look forward to working with Schauer Group employees to make a positive impact on the lives of children in Northeast Ohio. As we celebrate our 50th anniversary, our goal is to double our impact in the community and the cash donation provided will help us take steps to do just that."
Finalists were selected by a panel of Schauer Group associates based upon a variety of factors, including but not limited to: quality of application, demonstration of need and alignment with Schauer Group company core values. Community voting took place from June 1 through June 16.
The Century of Service Program is one in a series of 100th anniversary activities that Schauer Group has planned in the region for this year, following a pledged $150,000 gift to Aultman's Timken Family Cancer Center in Stark County.
###
ABOUT SCHAUER GROUP
Schauer Group, Inc., with offices in Canton and Cleveland, Ohio, is one of the largest independently owned insurance and risk management firms in Ohio, providing risk management, business insurance, human capital services, employee benefits, contract surety and personal insurance to a variety of clients nationwide. As the nation's first ISO Registered Independent Insurance Agency, Schauer Group maintains a commitment to quality and excellence, achieving an industry-leading 95 percent client retention rate. The fourth generation, family-owned company is celebrating its 100th anniversary in 2019. For more information, visit www.schauergroup.com.