Schauer Group associate vice president Matt Griffin is a recipient of the 16th annual Twenty under 40! award.
The Twenty under 40! award recognizes outstanding young professionals who live or work in Stark County and who are committed to the community. Winners are chosen based on their leadership attributes, personal and professional accomplishments, and their volunteerism and community involvement.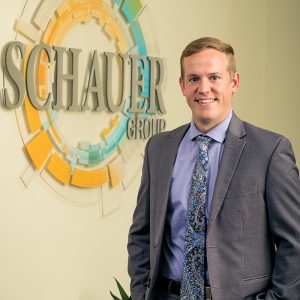 Matt joined Schauer Group in 2017 and was promoted to associate vice president in 2022. Not only has he built a highly technical risk management foundation by earning his Chartered Property Casualty Underwriter designation, but he also is adept at building relationships and has played a key role in helping his team retain clients and continue to grow.
In the community, Matt serves as president of the board of First Tee – Canton and was responsible for working with the national First Tee team and a local search committee to hire the next executive director for the nonprofit – and to keep operations running smoothly in the interim. In addition, Matt is a graduate of the 32nd class of Leadership Stark County's Signature Program and serves on the board of Leadership Stark County.
Twenty under 40! awards are presented by ystark! –  a division of the Canton Regional Chamber of Commerce focused on attracting and retaining young professionals –  along with the Chamber and The Canton Repository.