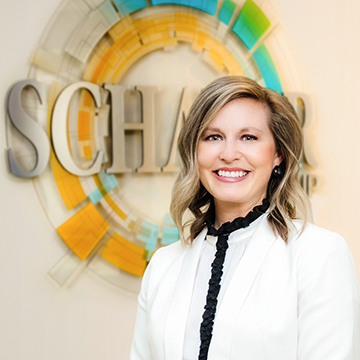 Aimee B. Belden
Executive Vice President & Chief Operating Officer
Aimee joined the company in 2013 and was promoted to executive vice president and chief operating officer in 2021. Aimee leads the company in the areas of talent attraction and retention, culture, corporate strategy, corporate communications, operations, client retention and execution of the company's vision. She has spent 20 years in a variety of operations, marketing, communications and public relations roles, developing an expertise in strategic planning and implementation across all disciplines.
Aimee earned her bachelor's of science in business administration from the University of Colorado. She began her career at GE Capital's insurance division, then known as GE Financial Assurance. She moved on to roles at Fortune Brands, the Canton Regional Chamber of Commerce and Chesapeake Energy.
She is very active in the community, currently serving on the executive committee of both the board of directors of CommQuest Services and The Women's Board of Aultman Hospital, and as a member of the board of trustees of the YMCA of Central Stark County. She is a graduate of the 25th class of Leadership Stark County and a 2012 recipient of the ystark! Twenty under 40! award. Aimee is married with two children.
---
SERVICE SPOTLIGHT

Aimee Belden, Schauer Group's Executive Vice President & Chief Operating officer served as Executive Committee member and Co-Chair of the 2022 Angel Auction Gala.
I am honored to support Aultman Hospital, an organization that has made such a positive impact on those in our community. I have served on the Women's Board for 10 years in a variety of roles. The Women's Board has raised nearly $30 million to support major projects at Aultman Hospital, including the Timken Family Cancer Center, the Emergency/Trauma Center, Aultman College, the Compassionate Care Center, the Neonatal Intensive Care Unit, and many other endeavors.
On May 14, 2022, I will host the 52nd Angel Auction Gala with my cousin, Cathie Belden, where we will take guests on an enchanted evening to explore the "Charms of Charleston." We have dedicated several years to preparing and planning this premier event that will feature exclusive auction packages, an extravagant dinner, and exciting entertainment. Our goal is to raise significant dollars to benefit our current Women's Board pledge of $4.2 million. All proceeds from the Gala will be used to fund two key initiatives to improve the delivery of care: a specialized patient mobility program, and a comprehensive lobby renovation designed to ease patient navigation.
Over the last two years since the pandemic began, we have seen just how critical the medical infrastructure is to caring for our citizens. We at the Women's Board have had to find new ways to connect and fundraise, but we have maintained our vision to support our healthcare heroes and offer healing to those in need. We're fortunate to be in a strong and caring community and I'm fortunate to be at a company like Schauer Group who shares a commitment to sustaining vital institutions in our community.
Contact Me